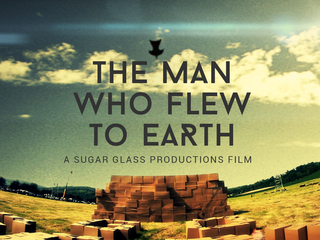 The Man Who Flew To Earth is a new documentary by accredited stuntman and first-time director Roy Taylor about the attempt of Gary Connery to skydive from over 2,000 feet and land without a parachute.
Back in May of 2012, Gary Connery, a stuntman and veteran of over a thousand skydives, successfully completed the stunt after leaping from a helicopter at 2,400 feet and using his wingsuit to travel over a mile in just under a minute, landing in a field of over 18,000 cardboard boxes.
The director, Roy Taylor, is a stuntman who has worked on many blockbuster films including Avengers: Age of Ultron, The Dark Knight Rises, and this year's upcoming James Bond film, Spectre. The jumper, Gary Connery, has also worked on many big film properties including James Bond, Harry Potter, and the Batman franchise. He is also famous for jumping from landmarks like the Eiffel Tower and the London Eye, the latter of which was completely illegal and unapproved. Connery completed the stunt in a tuxedo costume, and upon landing visited a local coffee shop for breakfast. No official investigation was ever launched, as the London Eye was under cleaning maintenance at the time, and no official complaints were made.
Connery jumped for an audience of over two billion people during the 2012 London Summer Olympics, in which he doubled for The Queen in a pink dress skydiving out of a helicopter with Daniel Craig as James Bond, who was doubled by fellow stuntman and close friend of Connery's Mark Sutton, to open the ceremonies.
Click here to watch the opening ceremony clip, as The Olympic's YouTube channel has disabled embedding.

The new documentary about Connery's attempt to skydive without a parachute is dedicated in memory to Mark Sutton, who sadly passed away in a wingsuit accident in 2013.

Sutton's accident was gut-wrenching for everyone involved in the film project, halting production. Sutton was a close friend and advisor to both the director, Roy Taylor, and jumper Gary Connery during the entire planning and execution of the stunt, and had a producer role on the film. His loss delayed the team from continuing the film out of grief and budgetary constraints.
There is now a Kickstarter to help raise the funds necessary for the post-production of the documentary, with only 8 days left. Check it out and consider becoming a sponsor.

Check out The Daily Telegraph's article on the day the stunt was accomplished, and thanks to the James Bond fan site Doubleonothing, where I came across the film.
Images via the film's Kickstarter page and the Otago Daily Times.